Music to our ears...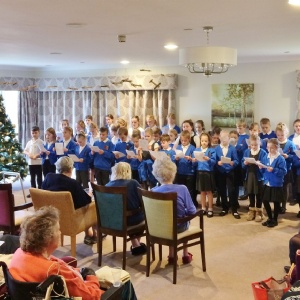 The Choir have been busy over the past couple of weeks....
The DJS choir have been in fine voice, spreading festive cheer to a number of local residential homes and to parents after school yesterday. From the soothing 'Silent Night', to the upbeat 'Jingle Bells', audiences have enjoyed the sight and sound of the children singing a number of favourite carols. We received some lovely feedback from the Denmead Memory Cafe team: "A massive thank you to you and the choir for your visit to the Denmead Memory café. We all enjoyed your enthusiasm and energy. One lady was reduced to tears with the emotion of it all. The presence of the children generated so much conversation after you left it was amazing. Intergeneration work reaps huge rewards and we would enjoy the opportunity of further visits to enjoy more songs or to talk about school subjects such as history or just dementia as it affects all generations within the family."