Ready, steady, GLOW....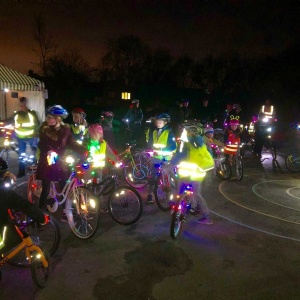 We were delighted to host this new community event over the holidays..
A number of local families took part in the first 'Denmead Glow Ride' towards the end of December, arranged by local Body Focus owner and cycling enthusiast, Terri Bryant. Thanking DJS for its support hosting the event, she said "the school was an ideal venue and the feedback has been great and we will make it a regular event on the Denmead Calendar... we had over 50 riders attend and quite a spectacular parade of glowing bikes through the village". Pictures from the event made it into The News. We look forward to more riders joining, helping to promote safe cycling in our lovely local community.